Inspired by an old steam-punk theme Bad Grannies Gastro Pub is a welcoming and vibrant venue right in the heart of Wellington at 195 Cuba Street. Here, you can enjoy some old school music, great food and refreshing drinks plus a great range of popular Kiwi pokies. It is ideal for dining and drinks with your friends or family. On most nights of the week, there are events going on here. Some of the entertainment amenities provided include live bands, DJs and a spirited quiz night. The venue combines these facilities with the neon colors, amicable staff and rustic furnishings to provide you with an excellent time.
Menu, Pokies & About Bad Grannies
Bad Grannies Gastro Pub is open for dining on weekdays from 12 noon until 12 midnight. On Friday and Saturday, it is open from 12 noon until late. Guests can chomp on a variety of dishes. There are some delicious burgers on offer which are the best in Wellington from all the reviews. They include the Vegetable, Beef, Lamb and Chicken Burgers. In addition to that, guests can enjoy delish pizzas. Some varieties of these include the Margherita, spicy meat and Sicilian pizzas. You can also relish a collection of snacks such as Calamari, Fries, Wedges, Chicken Wings and Onion rings. Prepared from only the freshest ingredients, each meal is guaranteed to satisfy your tummy and wallet.
Menu Sample Bad Grannies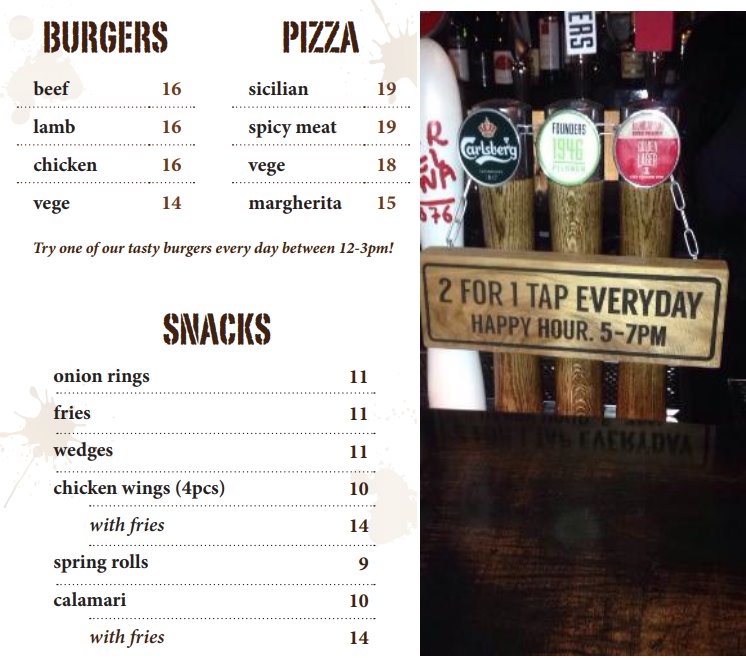 Drinks on offer
For complete Kiwi hospitality, the Bad Grannies Gastro Pub also offers up some cool, refreshing drinks. You can order some tap beer varieties such as Carlsberg, Asahi, Jack the Sipper and Somersby Cider. There are also some bottled beers such as Haagen, Budvar, Amstel Light, Estrella Damm and Smiths Apple Cider.
If you enjoy sipping wine, the venue also serves the must try Kopiko Bay Merlot, Trinity Hill Syrah, Wither Hills Early Light and lovely The Ned Pinot Gris. For those celebratory nights, you can order some Moet & Chandon Brut Champagne.
Popular local pokies in Wellington
Bad Grannies is not just about great food and drinks, they have about 10 terrific pokies games for customers in a comfy gaming area.
Specials and events
For your utmost satisfaction, the Bad Grannies Gastro Pub serves up some specials and hosts events. On Monday, you can have the $20 pizza and a pint. You can also enjoy Quiz Night on Tuesday from 7.00pm. Winners on this night are awarded bar tabs of up to $200.
| Casino rocket | Bonus | Compatible Devices | |
| --- | --- | --- | --- |
| | $1500 | | Play Now |
Wednesday finds the venue hosting a karaoke night. To keep your spirits up, a jug of your favorite ale and nachos for two are served at only $25. On Thursdays, guests can enjoy some live music while relishing 2 burgers for the price of 1. A guests DJ keeps the venue rocking every Friday from 9.00pm. On Saturdays, the establishment hosts karaoke night. Last but not least, you can enjoy Open Mic Sessions on Sunday. On this day, jugs go for $9. As such, the venue is always buzzing with activity throughout the week. This makes it ideal for a day or night out, deals subject to change.
Conclusion
At Bad Grannies Gastro Pub, there is never a dull moment. Guests can enjoy a variety of dishes and beverages at affordable prices. The staff is always happy to welcome you into the premises. Furthermore, they are ready to service any dietary preferences that you could have. You can discover more details about Bad Grannies from their website.
Opening hours
Contacts
Phone 04 974 6727
Website www.badgrannies.co.nz/
Map and address
Bad grannies
195 Cuba St, Te Aro, Wellington 6011, New Zealand

More New Zealand Local Pokies Clubs, Restaurants, Pubs, Casinos
| Oh My Spins Casino | Bonus | Compatible Devices | |
| --- | --- | --- | --- |
| | $500+ 200 FS | | Play Now |