Chilli Bar and Cafe is a restaurant, pokies gaming venue, pub and coffee shop with a very extensive menu. The cafe is located at 8a/1570 Hillsborough Road in the Lynfield area of Auckland, next to ASB bank. Wattle Reserve, Lynfield Tennis Club KFC Lynfield Pizza Hut Lynfield, Maungakiekie Golf Club, Countdown Lynfield, Doolan Brothers Bar & Eatery and Countdown Lynfield are the landmarks in the local area. The Boundary road is also nearby to the venue. Blockhouse Bay and Greenbay are some of the suburbs in the vicinity of this venue.
About Chilli Bar and Cafe Lynfield
Unlike most other cafes and bars in the area, this cafe opens real early in the morning at 7 am and closes at 1 am at night the next day. It is open on all days of the week. It has a parking lot where customers can park their vehicles securely while visiting.
The pub has a large number of TV screens installed, so that customers can enjoy their favorite sports especially rugby. For horse racing, they have a separate channel for the punters. Customers also play their favorite pokies games in the gaming lounge area. Customers are advised to reserve tables for eats especially if they are in larger groups.
Walk in customers are very much welcome at this venue so just rock up. The cafe also offers catering and take away services. Waiters will serve the customers quite quickly if you are short on time. Breakfast and lunch are served from 9 am to two pm daily, while dinner is usually served after 5 pm.
Eats and Menu at Chilli Bar and Cafe Lynfield
The menu for breakfast and lunch is similar. This venue does the best breakfast in all of Lynfield hands down. It consists of egg, tomato, avocado, egg benedict, french toast, creamy portobello mushrooms, omelette with cheese, salmon. There are a wide range of sandwiches like cheese and onion, cheese and pineapple, ham and cheese, cheese and pineapple, cheese and tomato.
Other items available are nachos, fish and chips, different types of burgers like the must try Chilli Bar Burger, salads and calamari. The cafe also has a very extensive menu for small children with ham and cheese toastie, chicken nuggets, kids pancake, fish bites, chips and creamy pasta.
For dinner the breads are toasted bread, garlic bread, and bruschetta. Entrees are the likes of nachos, seafood chowder, lemon pepper squid, buffalo wings, garlic prawns, prawn taco,The main dishes are chilli bar steak, braised lamb shank, burger tower, chicken club sandwiches, five spice pork ribs, cajun chicken salsa, fish and chips.
Families or groups can share a fish or meat plate. The fish the fish plate has prawns, salmon, mussels, fish bites, squid, seafood chowder. The meat plate has pork ribs, buffalo wings, meatballs. The desserts include homemade brownies, passion fruit cheesecake, ice cream bowl and the delish banana split.
The cafe has regular food menu specials so you can grab some cheap eats here.
Menu Sample Mains – Many More Choices Available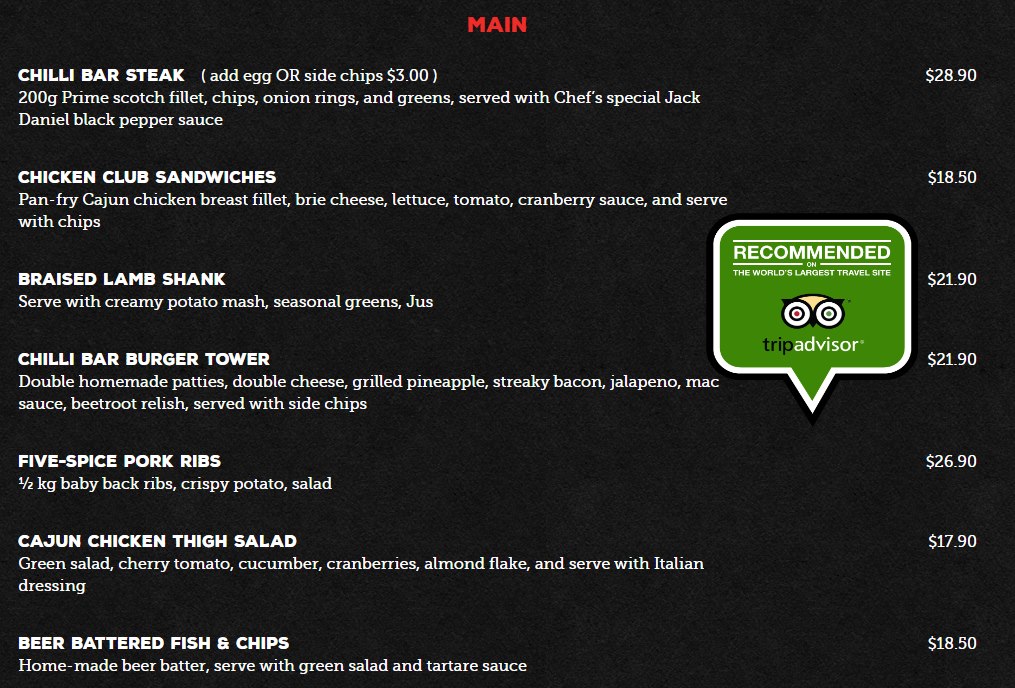 The Drinks to Mention
For the convenience of its customers, the bar has a wide range of wines and beers on offer. Some of the tap beers available are Carlsberg, Wild Buck lager, Wild Buck ale, Kingfisher, Somersby. Bottled beers are Heineken, Corona, Steinlager, Steinlager Pure, Stella Artois, Tiger.
The RTDs available here are Jack Daniels cola, Jim Beam Coruba, Woodstock. Sea Breeze, Appleberry, Helsinki Highball, Midnight Summer, Grape Expectations are some of the cocktails. All the major varieties of wines like Sauvignon Blanc, Pinot Gris, Merlot, Chardonnay, Pinot Noir, Shiraz are available at nice prices.
Summary Thoughts
Customers are extremely happy with the quality of the food served, since it is tasty and the portions are quite large. The cafe is suitable for families with children since it has a separate menu for kids. The venue offers the best burgers in Lynfield so make sure you check them out.
Pokies and TAB Gaming at Chilli Bar and Cafe Lynfield
Chilli Bar & Cafe has 9 poker machines games for customers, it's a very popular local gaming venue for some pokies gaming fun in the Mount Roskill, Lynfield, Auckland area.
*The best local pokies gaming lounge and sports bar venue in the Mount Roskill, Auckland area*
Chilli Bar and Cafe Lynfield Opening Hours
Mon to Sun Early to Late
Contacts
Phone 9-626 0981
Map and address
Chilli Bar & Cafe
8a/570 Hillsborough Rd, Mount Roskill, Auckland 1041, New Zealand
More New Zealand Local Pokies Clubs, Restaurants, Pubs, Casinos