The Cru Bar is a vibrant location which welcomes one and all into its halls of entertainment. It is located at the corner of King and Eastbourne Streets, Hastings, Hawkes Bay and always delivers on its promise of a roaring good time. Guests can be sure of a cold drink, terrific pokies and a freshly made pizza every time they step into the venue. Furthermore, there are leisure amenities such as pool tables available also.
The bar hosts some events every day so as to entertain guests and keep the atmosphere electric. Some examples of these events are the Wednesday Games Night, Pool Competition Thursdays and Spin and Win Saturdays. The establishment is open from Tuesday to Friday from 10.00am until late in the day. On the weekend, it opens up at 11.00am until late. Discover more about this iconic bar below.
Menu, Pokies & Drinks @ The Cru Bar Hastings
The Cru Bar specializes in providing sports entertainment to its guests. In addition to that, there are always some cool gifts and prizes to win on the special days. Regular guests can enjoy some amazing experiences here such as the fold-out sofa freebie for early birds.
The bar provides personalized attention to guests partying here. The staff and management handle the activities of every night with dedication. In addition to that, they are courteous and friendly. As a matter of fact, this bar is one of the very few party spots where the security personnel is happy to interact with revelers.
Special promotions
Special deals abound at the Cru Bar. Not only do they provide access to drinks and food at awesome prices, they help to keep the evening alive. An outstanding example of such an offers is the Friday Night Burger and Jug Deal. In this one, you get to to enjoy a juicy beef burger and jug of your favorite tipple at the pocket-friendly price of $12.
The bar also holds pageants for men and women. On special Saturdays, you can walk into the venue and see the best looking male and female models in Hastings strutting it on the catwalk. For those who love meat, there is a special known as the Free Barbecue With Jug. Furthermore, pool competitions here have gifts such as $100 bar tabs. Generally, there is always a great event or special being held here for you to enjoy.
There is ample, off-street parking outside the Cru Bar. As such, you can come over in your car and be sure that it will be safe during the entire length of your night out. The drinks are abundant and there are food dishes to complement them on offer.
| Casino rocket | Bonus | Compatible Devices | |
| --- | --- | --- | --- |
| | $1500 | | Play Now |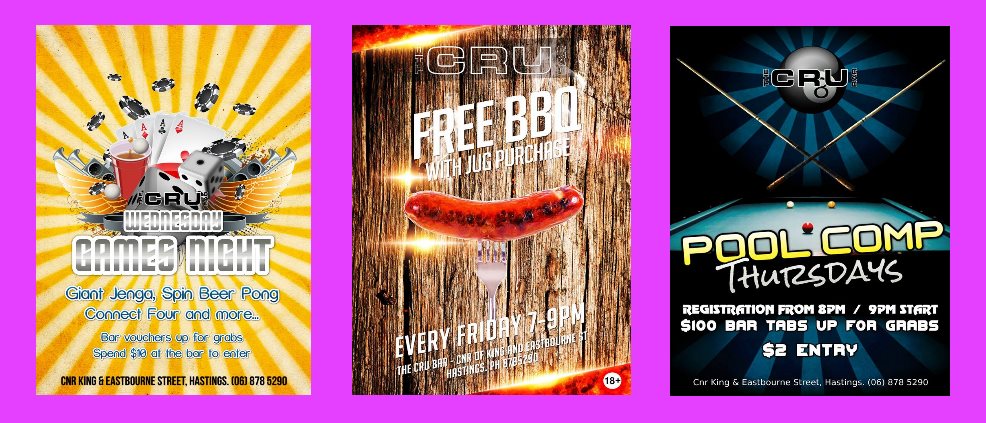 Popular pokies gaming in Hawke's Bay
Th Cru bar has 18 pokies machines available for gamers in the Hawke's Bay area. This is a very popular venue for gaming in this area.
Conclusion
All the food and drink at the bar is available at pocket-friendly prices. Moreover, being a regular accords you some special benefits. As such, the Cru Bar is an ideal venue to make your local party spot. Big screen TVs deliver the latest sports while live music and events such as karaoke keep the crowd entertained. For those who enjoy clubbing to the small hours of the day, lastly for local pokies players in Hawke's Bay this bar is an ideal location to visit.
Opening hours Cru Bar
Tuesday to Friday 10am to late
Saturday and Sunday 11am to late
Closed on Monday
Contacts
Phone 06-8785290
Website www.thecrubar.co.nz/
Map and address
The Cru Bar
Cnr King & Eastbourne Street's, Hastings, 4122, New Zealand

More New Zealand Local Pokies Clubs, Restaurants, Pubs, Casinos
| SLOTS CAPITAL Casino | Bonus | Compatible Devices | |
| --- | --- | --- | --- |
| | $100 | | Play Now |