The Degree is a gastro bar and nightclub located at 204 Quay St, Auckland, 1010, New Zealand, just right next to the New Zealand Maritime Museum on the harbour. It is one Auckland's premier multi-function establishments in the viaduct area.
Once you arrive at the bar you will be greeted with spectacular a wide selection of craft beers, superb wine list, extensive food menu, and spectacular water views. The food at this venue will give you great pleasure with several influences that are imaginative giving you satisfaction in all your foodie loves.
Food Menu and Beverages.
Food is a focal point for all social gatherings and no one understands this better than the Degree. There is an extensive menu selection which features foods for lunch, dinner, and a kids menu.
The lunch menu includes bread, small plates, platters, salad, main dishes, pizza, stone grill, sides, poke bowls, and desserts. The dinner menu is also similar to the lunch menu with the only difference being additional food choices in the main dishes section.
The kids' menu includes small meals such as coconut & lemongrass chicken, tamarind & delish barbeque sauce glazed ribs, fish & chips, green pea risotto, grilled chicken, beef brisket, burger, a sharing platter, stone grill, and poke bowl. There are also several treats for kids such as ice cream sundae, gluten free brownie, and kid's ice cream cones.
Menu Sample Degree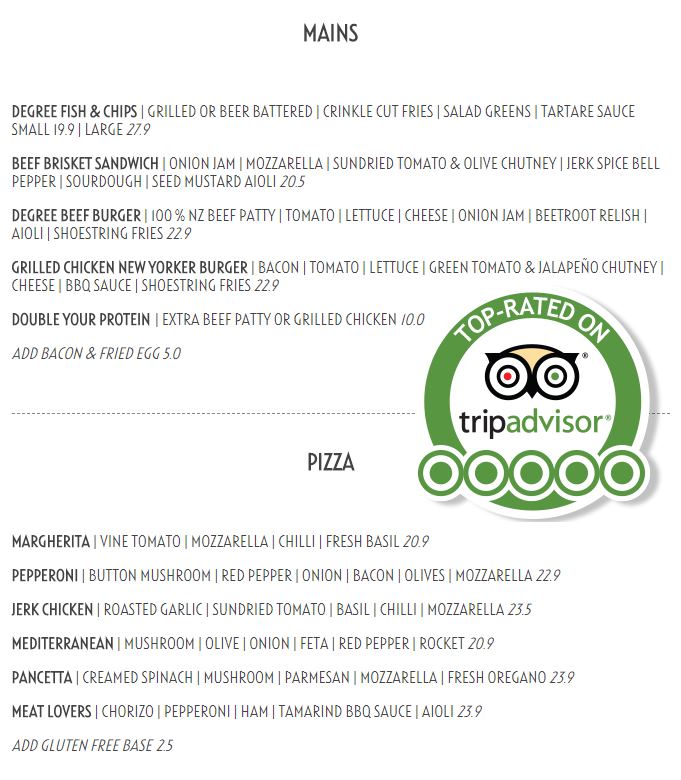 Daily Meal Deals at Degree.
You can grab daily food deals at Degree like the $14.90 express lunch Monday to Friday, $15.90 for 1 KG of Mussel's on Monday's or Rib's, chips and coleslaw on Wednesday's for $15.90 of just a few deals.
The Drinks at Degree.
The extensive beverage list at Degree features beers, wines, cocktails, and refreshments.
The beer list includes tap beer, bottled beer, tap cider, bottled cider, and low-alcohol beer and cider.
The wine list has a popular wine lineup that includes wines such as champagne, sparkling wine, rose wine, sauvignon blanc, chardonnay, aromatics, pinot noir, shiraz, merlot, and other reds.
Cocktails include a careful selection of cocktails such as appletini, margarita, espresso martini, vodka, long island tea, Mojito, cosmopolitan, pina colada, mai tai, strawberry sensation, quay west cooler, and sex on the beach.
Refreshments include a variety of non-alcohol drinks such as juice, soft drinks, house-made soda, mocktails, and posh water's.
Menu Sample Express Lunch Degree
Hit the Harbour.
You can take cruise on Auckland's harbour with Degree. Sit back and chill on their 2.5 hour dinner cruise tour with 3 courses of food.
Amenities and Events.
The Degree features a private function room known as the 'Ninety Room' which has been elevated above the usual ups and downs of the main bar and restaurant. It is well suited for different types of events such as engagement parties, birthday parties, anniversaries, and business meetings. This function area can hold up to 100 people standing and 50 people seated.
There is also a plasma screen available that can be used to view photographs or movie presentations. The decor in the room makes it perfect for a meeting or casual get together and there is a fantastic view of the harbor.
There are several daily events that mostly involve special discounts on drinks at specific times. The events from 5 pm to 8 pm include the 'Wine Me Up' event on Tuesdays that has a 7 dollar special on house wines, the 'We Be Jammin' event on Wednesdays which has an 8 dollar special on jam jar cocktails, 'Mojito Thursdays' event on Thursday which has a 10 dollar special on Mojitos.
'The World is Yours' event on Friday nights which has a 10 dollar special on cocktails, and the 'Espress Yourself' event on Saturdays which has a 10 dollar special on espresso martinis. There is also an all-day Sunday special with 10 dollars on pina colada and 28 dollars for a bucket of Sol.
Pokies Machines and Gaming at The Degree.
You not find and gaming or pokies at The Degree.
Summary.
The Degree gastro bar and nightclub is definitely the ideal place to have a good time to be with your friends or colleagues. It is a venue that is humming from lunch to dinner and then on to the morning.
It's a great place to enjoy a glass of the finest beer or wine in New Zealand and also sample the delicious meals on the menu that you can share with friends or just relax and enjoy live music from the resident DJs and various special performers. Whether you want a place where you can hold a company lunch, meet some few friends, or simply have a fun night out, the Degree will ensure that you get everything you need.
Opening hours
11:30 to Late Every Day
Contacts
Phone 9-377 1200
Website www.degree.co.nz/
Map and address
Degree Gastrobar
204 Quay St, Auckland, 1010, New Zealand

More New Zealand Local Pokies Clubs, Restaurants, Pubs, Casinos