Forge2 Bar Papakura is a local dance club and pub in South Auckland which has been extremely popular as a night club and pokies gaming lounge now for many years. The pub is located at 26, East Street in the Papakura area of Auckland.
Some of the local landmarks in the area are the Countdown supermarket, New World Papakura, Central Park, McDonald's Papakura, Pizza Hut Papakura, Noel Leeming Papakura, Ray small park and Hawkins Theatre. Elliot street, East street, Broadway street, Averil street, Wood street, Queen street, Union street are some of the streets in the area.
About Forge2 Bar Papakura 
On Monday and Thursday, the pub is open from 9.30 am to 7 pm, on Tuesday, Wednesday, Friday, Saturday, it is open from 9.30 am to 10 pm, and it is closed on Sunday.
The pub was opened on February 27, 2012 and was earlier extremely popular as a nightclub. However the management now focuses on providing a quiet and relaxing environment for its customers. The pub has a number of television screens installed on the walls, so that customers can watch horse racing and other sports matches.
Every Tuesday and Wednesday from 7.30 pm onward, customers can play Texas Hold'em poker games. Registration starts at 7 pm and a points system is used for scoring. The buy in for poker is $15, and there is also a flush draw which has an entry fee of two dollars.
The pub is also a function centre, and it can be hired for all kinds of functions like birthday parties, anniversaries, farewell parties, corporate events. The staff at the pub will make the necessary arrangements to ensure that the event is a success. On every Friday from 6 pm onwards, the pub is holding a meat raffle, and customers can win different kinds of meat packs to take home with them.
The fee for entering the meat raffle is just two dollars and every ticket holder has two chances of winning. Tickets are for sale from Monday onward. Customers do not have to be present at the time of the draw to win a prize.
| casino rocket | Bonus | Compatible Devices | |
| --- | --- | --- | --- |
| | $1500 + 150 FS | | Play Now |
Happy Hours at Forge2
The pub has happy hours daily from 5 pm to 7 pm, where customers can get $1 off on all the alcohol drinks. A wide range of beers, wines and other alcoholic drinks are available with reputed brands like Tui, Amstel light, Export 33, DB Draught, Buck, Woodstock, Vodka cruisers available.
Menu and Eats of Note Forge2
No fancy eats or fine dining here at this venue. The bar offers hot chips alone for $6 or these can be combines with five fish bites, hot dogs, chicken nuggets each for $10 . Or you can get 10 small spring rolls are available for five dollars, and two pies for $3. A small pizza is available for only $5, while ten dumplings are costing $8. Cup noodles are priced at $6, while a packet of chips costs $2.5.
Summary Notes
An entertainment quiz Poparazi is also held for the customers on a regular basis. It also has a number of pool tables where customers can play have a few games on the green tables. The club has a fireplace for heating on those chilly nights. Customers visiting the pub can park their vehicles in the parking lot, or in the streets around the pub. It also has security for the safety of its customers.
The pub is a popular local hang out to play the pokies or have a game of poker in Papakura, people can have a drink with their friends and have a watch sports on the big screens. Customers who have hired the pub for their functions are extremely satisfied with the services of the staff which made the event a success.
Pokies and TAB Gaming at Forge 2 Bar & Nightclub
Forge 2 Bar & Nightclub has 18 poker machines games for customers, it's a very popular gaming venue for some Aristocrat pokies gaming fun in the Papakura area.
*The best local pokies gaming lounge and sports bar venue in the Papakura area*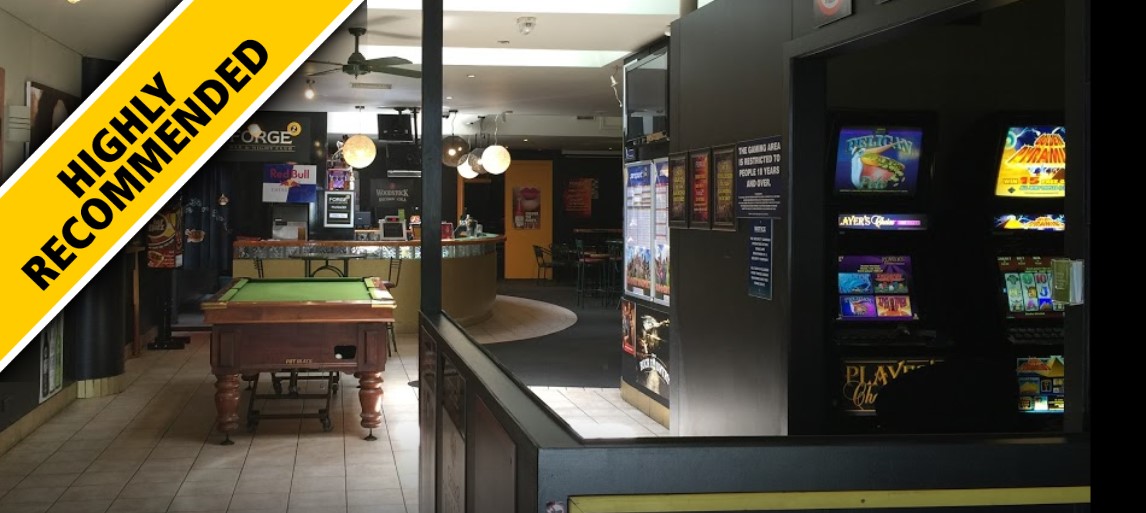 Forge 2 Bar & Nightclub Opening Hours
Mon to Sat 10 am to late
Sunday 10 am to 9 pm
Contacts
Phone 09 2999168
Forge 2 Bar & Nightclub Website
Map and address
Forge 2 Bar & Nightclub
26 East St, Papakura, 2110, New Zealand

More New Zealand Local Pokies Clubs, Restaurants, Pubs, Casinos
| king billy | Bonus | Compatible Devices | |
| --- | --- | --- | --- |
| | $2500 | | Play Now |