The Kamo Club is a venue which welcomes one and all for a few drinks, eats or a little one armed bandit action (pokies gaming). Located at Meldrum Street, Kamo, Whangarei, it is a friendly establishment that caters to families, friends and colleagues.
The club provides membership to all above the age of 18. While here, members, guests and visitors have access to some dining, wining and entertainment facilities plus they can access the courtesy bus service to and from the club. There are also some social activities and games which you can enjoy as well. Should you have a private event, the club can host it for you in grand style at super duper prices.
Menu, pokies & more about the Kamo Club
At the club, you can have a meal or a drink of your choice in the resident eatery. The Kamo Club Family Bistro serves delicious dishes from New Zealand and beyond. Here, you can sit down on your own or with good company and enjoy sumptuous dishes prepared using only the freshest ingredients.
The club has a staff of professional chefs that is dedicated to serving excellent meals. The Family Bistro is open on Thursday to Sunday in the evening. You can enjoy cuisine such as the stack burger, bangers n mash, porterhouse steak or the delish roast of the day. Should you have any food ingredient concerns, always feel free to consult the staff and have your meal adjusted accordingly.
Menu Sample – Best Roast of the Day in Whangarei.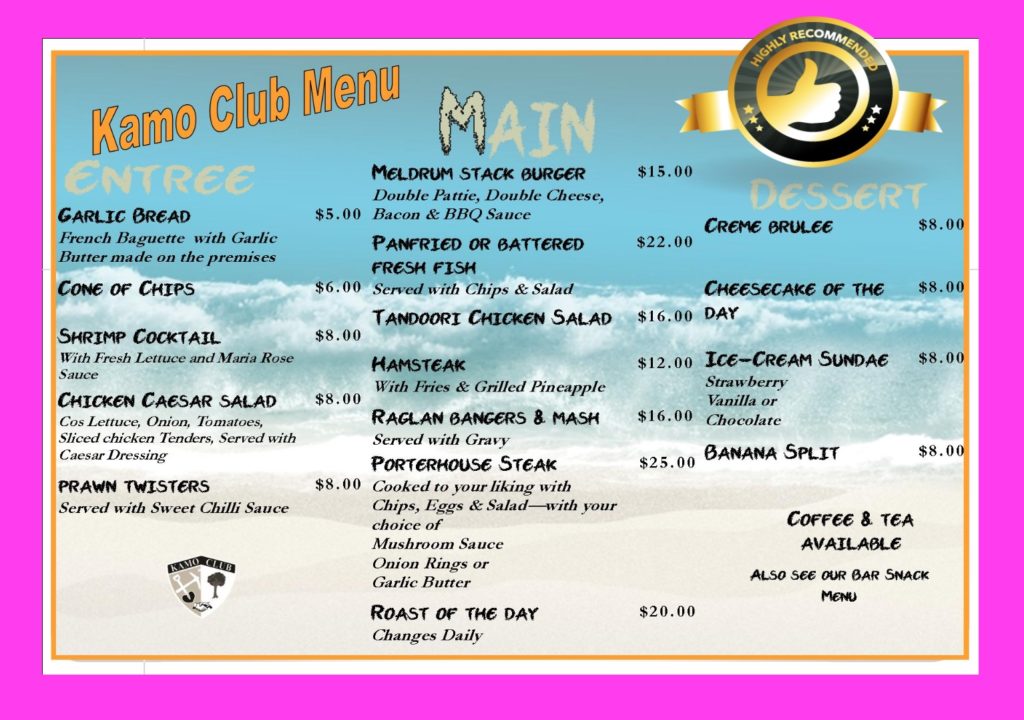 Joining the club
You can easily join the Kamo Club. This can be done by applying through a special online form located in the club's website. In addition to filling in the form, aspiring members have to pay a joining fee of $50.00. Upon completion, the application is assessed by the club committee before membership is awarded.
Whangarei's best pokies and gaming
The Kamo clubs gaming lounge has about 18 awesome poker machines, the club is actually Kamo's best place to have a crack on the pokies.
| SLOT NITE Casino | Bonus | Compatible Devices | |
| --- | --- | --- | --- |
| | $500 | | Play Now |
Function amenities
The Kamo Club is capable of hosting events for members. The club has a special function room that can be prepared so as to host a function of any nature. The venue can host functions such as family get-togethers, birthdays, wedding parties and work events.
When you book the venue, you can receive some catering services from the Family Bistro chefs. They have platter, finger-food and buffet menus that are designed for events. Furthermore, the club's staff is ready and willing to help you with decorations and managing your event. Feel free to call 09 435 1765 to book the space for your function.
Social activities and games
Members can enjoy a wide range of activities and social activities. They encourage camaraderie, relaxation and are great ways through which you can make new friends. Examples of these activities include fishing, dance, cricket, golf, gardening, and indoor bowls. Members can also enjoy outdoor bowls, snooker, pool, motor sport and table tennis. The club often organizes competitions in these activities. As such, there is never a dull moment at the Kamo Club.
Accommodation
If you are searching for a place to stay overnight or for longer in the area, the club can help you find one that suits yoyr budget. The club has a guide in its website which indicates all the available accommodation options that are close by in the Whangarei area. Some examples of the options found in the guide include The Grand Hotel, Burgundy Rose Motel, Flames Hotel and the popular Avenue Heights Motel.
Conclusion
The Kamo Club provides everything you could need for a great time with family or friends. The venue provides a convenient membership process. Furthermore, the amenities within are guaranteed to keep you busy and entertained no matter if you just want a great lunch,  a few beers or some pokies gaming.
Opening hours
Club open 7 days from early to late.
Contacts
Phone (09) 435 1765
Website www.kamoclub.co.nz/
Map and address
Kamo Club Inc
Meldrum St, Kamo, Whangarei 0112, New Zealand
More New Zealand Local Pokies Clubs, Restaurants, Pubs, Casinos
| SLOTS CAPITAL Casino | Bonus | Compatible Devices | |
| --- | --- | --- | --- |
| | $100 | | Play Now |