On weekends most people wish to party till late at night, yet many of the bars and pokies gaming venues in Nelson will close at midnight or earlier. Hence the Little Rock Nightclub & Taylor's Bar is popular among avid party and pokies lovers in Nelson since it closes late at night at 3 am.
About Little Rock Nightclub & Taylor's Bar
The bar opened on July 10, 2002 and is has remained popular as a bar and night club. The bar is located at 132 Bridge Street in Nelson and is close to the Matai river and Selwyn Place. Other streets in the vicinity of the nightclub which can be used to reach it are Trafalgar, Nile, Hardy, Halifax East, Tory, Grove and Bridge Street.
The nightclub and bar is open from 7 pm to 3 am from Wednesday to Saturday. It is closed on Monday, Tuesday and Wednesday. Customers can use their LM wallet to make purchases and save money. Pool lovers can enjoy free pool at 7 pm . Pool lovers can make some money by participating in the pool competition held every thursday from 9.30 pm onwards. There is a $5 entry fee for this competition and the prize for this competition is $100 cash. The runner up is also winning $50 in the form of a venue voucher, and a raffle is also held for all those who participate, with the winner getting a $50 venue voucher.
On Wednesday music lovers can enjoy Karaoke with Shazz from 10.30 pm onwards. DJ Soni is playing popular RnB, HipHop and top 40 hit songs till 3 am so that customers can enjoy the music and dance with their friends nearly to sunrise. Customers can sign up to become a VIP member by registering using the form provided. The nightclub organizes events and functions on various special days like Christmas, New Year and Valentine's day. Eg: A Toga party with the theme Roman gods was held on March 30, 2019, and included a fancy dress competition, where the winners won $50 in cash, Bands like the Sydney Hotshots have performed at the club.
Let's Have a Drink or Two
The bar is well stocked and offers a wide range of drinks to customers who can enjoy with their friends. There is drinks special late at night between 1 am and 2 am. One liter jugs of Tui or Export DB (founded in 1930) are available for $12 each and two jugs are offered for $20. Mckenna's Kentucky straight bourbon RTD is available for $14. Fish bowls with ice cubes and drink are priced at $10 each before 11 pm.
The Tequila and QF shots are inexpensive with two shots offered for $10. Jager Bombs and Vodka Red bulls with Vladivar Vodka, Red Bull energy drink are priced at two for $15. Vodka Cruisers cost $10 for a couple of drinks.
| Casino rocket | Bonus | Compatible Devices | |
| --- | --- | --- | --- |
| | $1500 | | Play Now |
The bar also offers Jager or Vodka Red bulls , a combination of Vladivar vodka and red bull energy drink for three people for $25. and nightclub is well designed and has an attractive dark blue decor. There are a number of tables where the customers can sit it groups with their friends, and there are three chairs per table. The dance floor has been renovated recently and is larger in size, so that customers can enjoy dancing even more at the dance and nightclub. All this makes Little Rock a popular local hang out in Nelson city you you mates.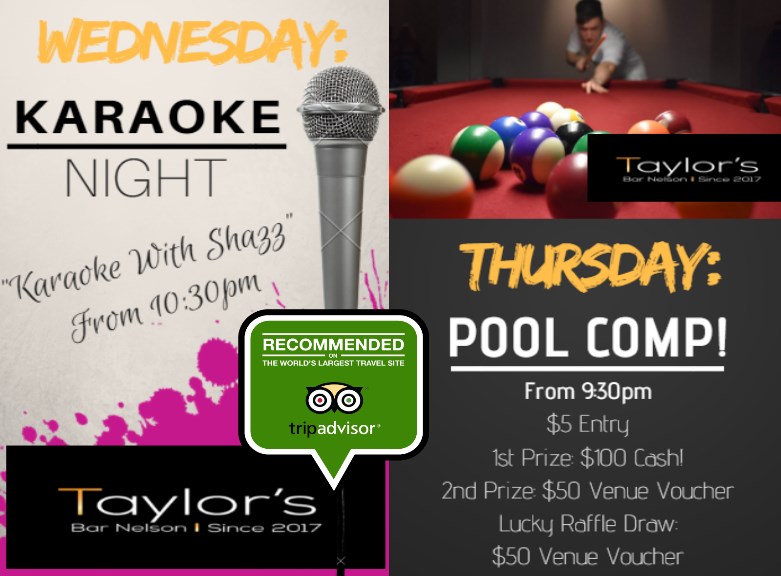 Pokies and Gaming at Little Rock Nightclub & Taylor's Bar
This venue has about 8 pokies machines to enjoy, it's a good late night venue in Nelson city to play the pokies in the wee hours of the day.
Opening hours
Mon, Tues, Wed Closed (may change)
7 PM to late other days
See website for latest details
Contacts
Phone 3-546 6630
Website http://www.littlerockbar.co.nz/
Map and address
Little Rock Bar & Nightclub
136 Bridge St, Nelson, 7010, New Zealand

More New Zealand Local Pokies Clubs, Restaurants, Pubs, Casinos
| 21 PRIVE Casino | Bonus | Compatible Devices | |
| --- | --- | --- | --- |
| | £/$250 | | Play Now |