Southland Sports Bar is a great bar with some of the best facilities for sports lovers in the Invercargill area. The sports bar has pokies gaming options and is located at the corner of McQuarrie street and Elles Road in Invercargill a lovely local town in New Zealand. The Thar and Feather restaurant is located right next door.
Kew Park, Mcquarrie Park and New River primary school are some of the major landmarks in the vicinity. Tramway Road, Christina Street, Moulson street, Brown street, Vernon street, Albany street, Scott street, are some of the roads in the vicinity. In addition to street parking the sports bar also has a provision for vehicle parking in their parking lot.
About the Southland Sports Bar Invercargill
The sports bar started its business on October 1, 2010 so they have been around for a bit already. They are open from 10 am to late at night, usually 10 pm on all days of the week except Sunday, when it will open at 11 am in the morning. It has a sheltered courtyard for those who wish to have their meals or drinks outdoors. It also has a fireplace for a cosy atmosphere on those chilly Invercargill days n' nights.
Live music is available for entertainment on most weekends, with local bands and other performers performing live at the bar. The bar can be hired for holding Christmas, birthday, other parties, stag nights and for functions. Those who wish to hire the venue should contact the bar for assistance.

Venue Facilities of Note
The sports bar has a number of facilities for those enjoy watching, playing and gambling by playing games, placing bets on sporting events. There are 18 gaming machines where customers can play their favorite slots and other games. Customers can watch live sports in the company of other sports lovers on the television screens at the sports bar.
| JACKPOTCITY Casino | Bonus | Compatible Devices | |
| --- | --- | --- | --- |
| | $1600 | | Play Now |
They can also place bets on the sports events using the full service TAB facilities. There are pool tables for customers who like playing pool and snooker. Customers who like chucking darts can also have a game on the dart boards which are available.
Meals and Menu Deals
The bar offers a wide range of bar meals from the time it is open. Special meals which are gluten free, low fructose are also available on request. On Tuesday, special combo deals are available. Some of the deals are crumbed chicken schnitzel served with chips, salad and gravy, BBQ chicken, pizza, salad, bolognese with penne pasta, fish burger with kumara fries, beef schnitzel with chips, gravy, cranberry filo parcel. Butter chicken served with rice, chicken & fresh basil lasagna salad is also served. The bar has a special menu for desserts and for children also. If you looking for the best chicken burger in Invercargill this is your venue.
The Tuesday special deals (subject to change) are all priced at $10 so that's great value. Battered sea cod with aoili, steak, and cheesecake are popular among customers. A mains dish and dessert is available at a discounted price. The bar accepts cash, American express, visa, master card credit card for payment. The bar has friendly waiters to serve customers promptly. Competitions for children like coloring competitions are held periodically for families with children.
Menu Samples Southland Sports Bar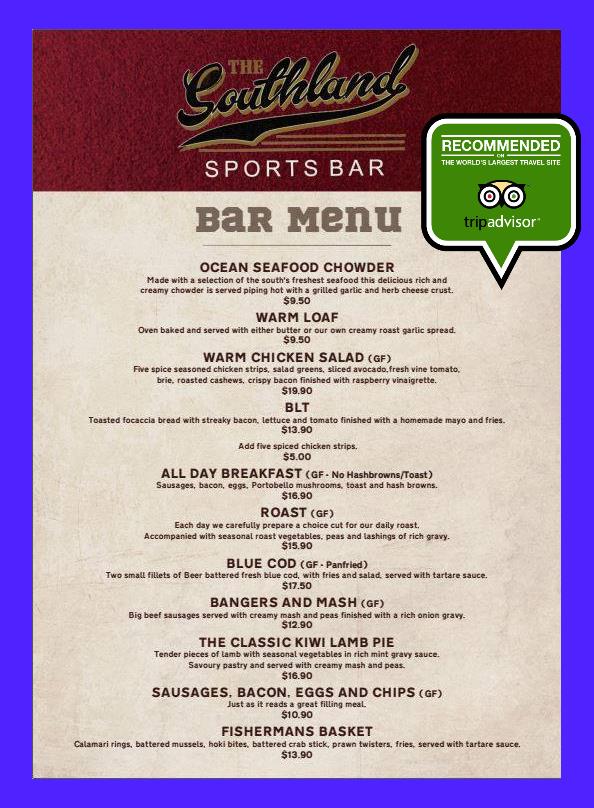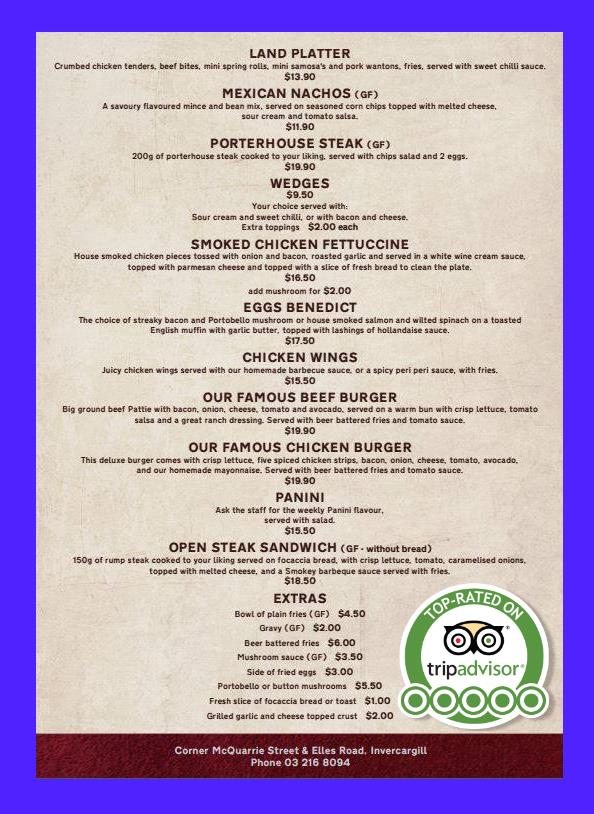 Overall Summary
By all accounts customers who have visited the bar are extremely satisfied with the quality and price of the food which is available here. It's a top venue in Invercargill for some sports watching, drinks and eats.
Pokies and Gaming at Southland Sports Bar Invercargill
This bar has 18 pokies machines games for kiwi players and it's a very popular place in Invercargill for some exciting pokies gaming, fun and some wins.
*One of the best local pokies gaming venues in the Invercargill area*
Southland Sports Bar Invercargill Opening Hours
Open Daily – Monday to Saturday from 10am – Sunday from 11am to late
Contacts
Phone 03 216 8094
Map and address
Southland Sports Bar
410 Elles Rd, Kew, Invercargill 9812, New Zealand

More New Zealand Local Pokies Clubs, Restaurants, Pubs, Casinos
| THOR Casino | Bonus | Compatible Devices | |
| --- | --- | --- | --- |
| | $2000+ 200 FS | | Play Now |