The Fringe Bar is always bustling with entertainment and ready to give you a warm welcome for entertainment, eats, drinks and pokies fun. It is located at 26 -32 Allen Street, Te Aro, Wellington City and provides guests with a variety of amusement acts every night. Some examples of these are Live Music, Improvisation, Theatre, Musical Comedy and Karaoke. Thanks to its acts the venue is considered the main hub of comedy in Wellington. Every week, it hosts up to 4 nights of mirthful laughter.
As a matter of fact, it is the creative home of the Wellington Improvisation Troupe (WIT). Every Wednesday, this creative group performs here and they are a must see act. Quite proudly, the venue is the home of the New Zealand Fringe Festival. During this eventful time, the bar provides a socialization spot for the comedy artists, their crews as well as the audiences who come to watch them.
Menu, Pokies & About the Fringe Bar
As you explore the meals that are served in this venue, you have the opportunity to browse through snack and catering menus. In the Snack menu, you can find dishes such as the Seafood Basket, Fringe Vege Fries with Aioli, Nachos and tasty Lasagna.
If you're dining in a group, the catering menu comes in handy. Within, you can find dishes such as the Savoury Platter, Asian Platter, Italian Platter and the hearty Meat Lovers Platter. Each one of these contains generous servings capable of gratifying up to 10 people per session. With these options at hand, you can definitely satisfy your hunger pangs at this venue.
Menu Sample Fringe Bar Wellington
Drinks on offer for you
At The Fringe Bar, you are definitely bound to find your favorite drink. The establishment has a collection of beverages behind the counter which you can enjoy. In addition to that, the resident kitchen provides a variety of tasty dishes for your culinary delight. Whether you are dining on your own, with a date or in a group, the establishment provides something for every situation.
In true Kiwi spirit, The Fringe Bar serves up a wide range of drinks. The beverage list contains some Shooters and also some Cocktails. Some examples of the Shooters on offer include the Godfather, Snickers, the Birthday Cake, the Alabama Slammer and the Brain Hemorrhage.
You can also order some cocktails such as The Menagerie, Dark & Stormier, Kanye West, the Illusion and the iconic Bloody Mary. With this collection simply a request away, you can easily quench your thirst at this venue at a great price.
Terrific pokies gaming in Te Aro, Wellington City Centre
The Fringe Bar has about 18 pokies machines on offer for customers, it's a popular hang-out in Wellington City for some slot gaming action.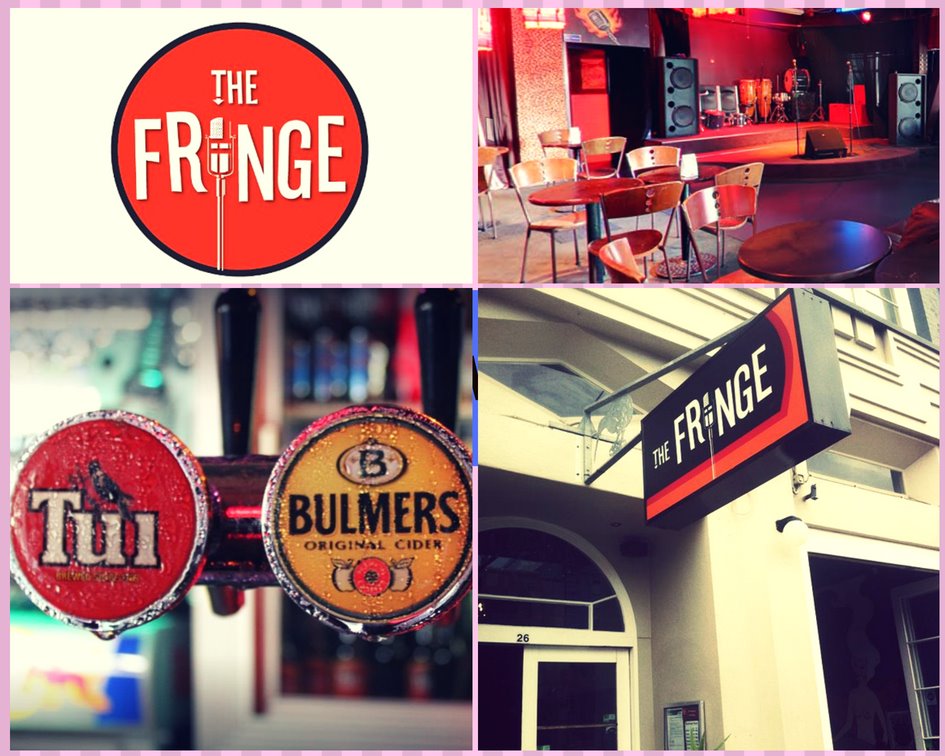 Function hosting services
In addition to great food and exquisite drinks, The Fringe Bar also hosts functions. If you have a private event such as a birthday, wedding party, family get-together, work party or even an album release, this bar can provide an excellent spot for you to host it.
The establishment is capable of hosting up to 150 people at a time. Upon booking it, you get a number of complementary resources. Examples of these include a DJ, security and a karaoke operator. You are at complete liberty to decorate the venue according to your own preferences.
Conclusion
The Fringe Bar is simply a melting pot of activity, personalities, energy and entertainment. From the food, drinks and pokies options visitors often turn into regulars thanks to the amenities available within the venue. Not only can you enjoy a tantalizing dish, you can also sip on something cool while having a laugh. You can discover more about them through the information available on their website.
Opening hours
7 days from 11am to late
Contacts
Phone 04 801 5007
Website www.thefringebar.co.nz/
Map and address
The Fringe Bar
26-32 Allen St, Te Aro, Wellington 6011, New Zealand

More New Zealand Local Pokies Clubs, Restaurants, Pubs, Casinos