Bungalow 8 is a stylish dance and nightclub, although they are a nightclub they are also open from noon on most days, you can also have a drink and eats on the deck and outside courtyard area which has amazing water views. They are located right in the busy Viaduct city area at 48 Market PI, Auckland, 1010, New Zealand.
This venue is described by some as 'West Coast USA hip with a wee bit of New York' and features a sultry interior, bamboo ceiling, and beautiful tropical fish tanks that create a unique style while at the same time making you feel comfortable and chilled.
It is a place that has almost everything to offer to people of all kinds of personalities and lifestyles and also provides an ideal environment for any demographic and event.
The Club, Features, and Amenities.
Bungalow 8 has been one of the biggest clubs in Auckland for over 15 years. It is widely known for its intense flame trick shots, unique interior, and some of the best cocktails in all of New Zealand. There is a wide variety of fast foods that you can enjoy such as fries, gourmet pizzas, platters, and salt n pepper squid.
Amenities include a fully functional kitchen that is well-equipped, fish tanks, outside court area, deck area, toilets, smoker's area, VIP area, smoke machines, a DJ booth, bamboo ceiling, lights, and lasers.
The VIP area is capable of fitting 30 people or so comfortably. If you have booked a certain section of the VIP area, you can have it decorated as you please and the management can also reserve tables/seats or another area if you wish. While the club is now currently under new management, ownership, and staff, they do their best to ensure that you get the best in terms of service offered and high-quality food and entertainment.
Food and Beverages.
Bungalow 8 has an amazing list of food and beverages that you can treat yourself to. Beverages consist of all types of enjoyable drinks such as tap beers, bottled beers, white wines, red wines, champagne, a wide selection of cocktails, popular shots, and even non-alcoholic beverages such as fresh juices and fancy sparkling water.
| SLOT NITE Casino | Bonus | Compatible Devices | |
| --- | --- | --- | --- |
| | $500 | | Play Now |
The food menu mainly features a fast food selection of pizza, snacks, and platters. For pizza, you can choose from a wide variety of flavors that include pizza bread with garlic and salt, salami and olive pizza, veggie pizza, and the must try popular blackened chicken pizza.
Snacks include fries with aioli, wedges with cheese and sour cream, salt n pepper squid with garlic oil, and spicy beef nachos with cheese and sour cream. Platters consist of simple foods such as samosas, spring rolls, prawn twisters, fries, fish goujons, and the delish salt n pepper squid.
Bungalow 8 Pizza & Snacks Menu Sample
Bungalow 8 Cocktails Menu Sample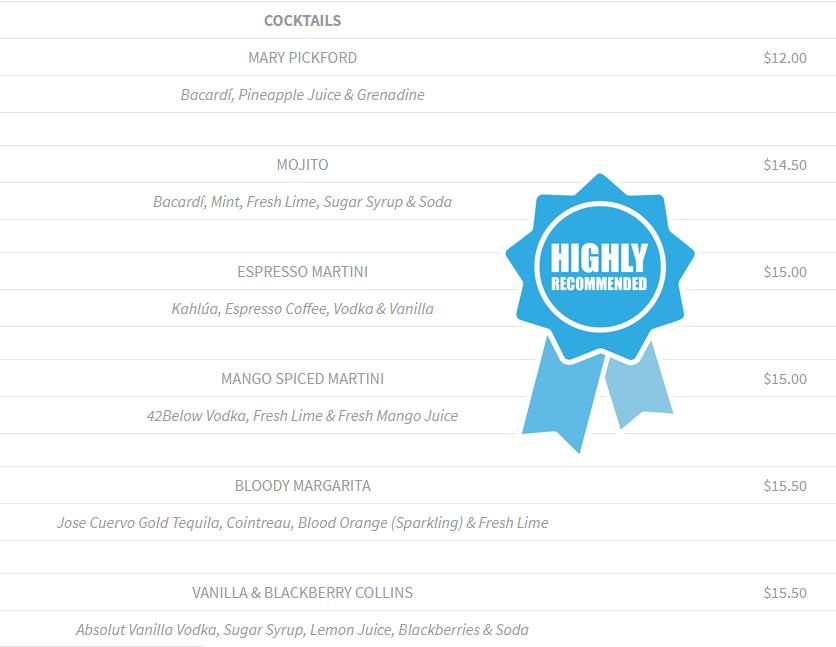 Great Staff
As said before, Bungalow 8 is currently under new management and staff. Most of the team is comprised of young and talented members who have been well trained in their respective fields. There are about 5 bartenders, some of whom work part-time, and 3 different managers in charge of different areas.
The DJs in the club are some of New Zealand's top DJs who play all types of music depending on the mood or occasion and can also play special requests. Whether you are asking one of the managers a question or two concerning the club or having a nice friendly chat with one of the bartenders or simply saying hi to one of the DJs, the entire staff is very friendly and will make you feel very welcome.
Bungalow 8 Auckland Pokies and TAB
This venue Bungalow 8 has no pokies or TAB facilities available.
Summary
If you happen to be around Auckland and you are looking for a nice spot to enjoy a night out with friends or make new ones, Bungalow 8 is definitely the place to be no matter if it's for an afternoon beer or a cocktail at 3am. The decor which features tropical fish tanks, bamboo rafters, and paper lanterns, will make you feel completely relaxed as you enjoy delicious foods, exquisite drinks or simply just dance to your heart's content.
Interestingly enough, the club has also hosted some of the most recognizable celebrities such as Justin Timberlake and Sir Richard Branson. Visit Bungalow 8 today and dance the night away as you experience luscious cocktails and make conversations with all kinds of people.
Opening hours Bungalow 8
Monday: 2:30pm – Close
Tuesday: 2:30pm – Close
Wednesday: 2:30pm – Close
Thursday: 2:30pm – Close
Friday: 12:00 noon – 4:00am
Saturday: 12:00 noon – 4:00am
Sunday:  12:00 noon – 4:00am
Contacts
Phone 9-307 1500
Website www.bungalow8.co.nz/
Map and address
Bungalow 8
48 Market Pl, Auckland, 1010, New Zealand

More New Zealand Local Pokies Clubs, Restaurants, Pubs, Casinos
| JACKPOTCITY Casino | Bonus | Compatible Devices | |
| --- | --- | --- | --- |
| | $1600 | | Play Now |