Club Rio is a local sports bar with a nice range of pokies machines, it offers inexpensive drinks and it's the best venue in the Otahuhu area to catch up with your mates and dance the night away. The bar is located at 14, Queen Street in the Otahuhu area of Auckland in New Zealand.
The Otahuhu library, Otahuhu pool and leisure centre, Otahuhu town hall and community centre, Savebarn Otahuhu, Jetts Otahuhu and McDonalds are some of the landmarks in the area. Mason Avenue, Hall Avenue, Park street, High street and Church street are some of the roads in the vicinity. NB – The venue located before at this address was Grace's Place.
About Club Rio Otahuhu
The sports bar is open from 10 am in the morning to 1 am at night on all weekdays according to information on Facebook. Customers can park their vehicles on the streets and roads in the area.
The sports bar has a number of televisions installed where customers can watch their favorite sporting event live. It is also a popular pokies gaming lounge, and has all the gaming machines installed that you love to play in NZ. Customers can enjoy a game on the pool tables also. Additionally there are dartboards installed where customers can chuck a few spears.
In the morning on Monday, Tuesday and Wednesday, customers can enjoy a game of Housie (bingo) for $20, and the prizes offered are attractive. Along with the Housie game in the morning, they can also enjoy pokies gaming during the break plus food and drinks at a discounted price.
Customers can hire the sports bar if they wish to hold any kind of event like a birthday party, farewell party, hens night since it is also a function venue. Complete arrangements for the party can be made including catering, decor and entertainment. For entertainment, live music, disc jockeys (DJ) to select the music can be arranged.
The bar has a dance floor, where customers can dance to the music being played along with their friends. Live Karaoke nights are also held at the club, where customers can sing their songs and show off their not so great musical skills.
| SLOTS CAPITAL Casino | Bonus | Compatible Devices | |
| --- | --- | --- | --- |
| | $100 | | Play Now |
Let's Have a Drink @ Club Rio
The sports bar has a very well stocked bar, with a range of local wines, lager beers, spirits, non-alcoholic beverages and cocktails at extremely affordable prices. At times it has special offers for alcoholic drinks and customers can choose any three drinks for $20.
Some of the drinks for this special offer are Corona, Cruisers, Steinlager and Woodstock. Four Lion Red drinks are available for $20. The bar also offers a range of colorful cocktails in red, green, cream and other colors for only $5 each at times. Some of these cocktails are Blue Lagoon, Mango Daquiri, Pina Colada.
Menu and Eats of Note
The daily food menu changes often and includes the likes of Thai Yellow curry, Fried rice chicken, Beef steak with soy sauce, Chop Suey, Chicken Kentucky, beef burger. All these items are inexpensive and priced at just $5 each only.
Summary Notes
The prices of the food and beverages are lower here than at most other pubs in Otahuhu. Many of the people living in the area, visit the club regularly to relax with family and friends because of the friendly atmosphere and excellent service offered by the staff at the bar.
Meat tray raffle packs are also available at select times so you can cook your winnings at home.
The bar is well managed and drinks are inexpensive so it's your go-to pub in Otahuhu for all these reasons. The club is extremely popular for its nightlife because of the music and the dance floor which stays open late past your regular bedtime 🙂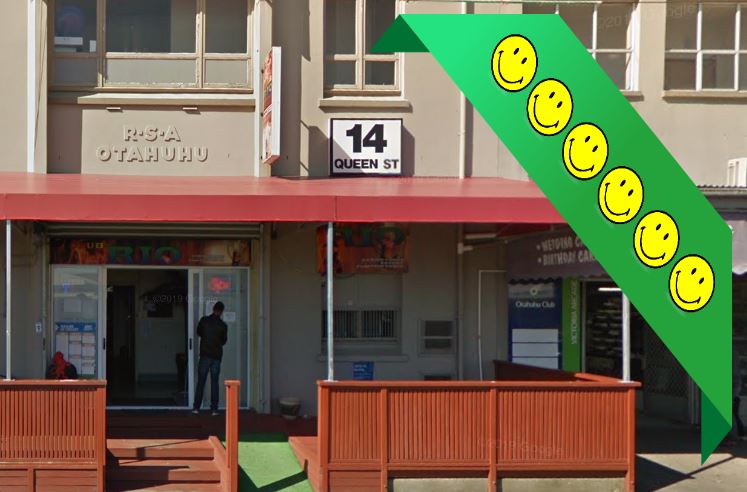 Pokies and TAB Gaming at Club Rio Otahuhu
Club Rio has 18 poker machines games for players, it's a very popular place for some TAB bets and pokies jackpot gaming fun in the Queen Street area of Otahuhu.
*One if the best local pokies gaming and sports bar venues in the local Otahuhu area*
Club Rio Opening Hours
7 days – 10 am to 1 am
Contacts
Phone 9-270 0536
Map and address
Club Rio
14 Queen St, Otahuhu, Auckland 1062, New Zealand

More New Zealand Local Pokies Clubs, Restaurants, Pubs, Casinos
| JACKPOTCITY Casino | Bonus | Compatible Devices | |
| --- | --- | --- | --- |
| | $1600 | | Play Now |