To get your fill of the latest sporting events, the Fitz Sports Bar is your one-stop location in Christchurch. Situated at the corner of Fitzgerald Avenue and Cashel Street in Christchurch, this wining and dining spot ensures that sports fans never miss a moment of their favorite games. There are big screen TVs which display all the latest sports events. Examples of these are boxing, rugby, UFC and much more.
All that excitement is bound to get you feeling hungry so thankfully, the sports bar serves delectable eats from 11.00am to 9.00pm. Free Wi-Fi, pool tables, dart boards and a gaming room add to the fun here. Here is more about this haven for sports die-hards and those searching for an exciting night out on the town or just a little pokies entertainment.
Menu, Pokies & about the Fitz Sports Bar
The Fitz Sports Bar is well equipped to provide refreshment. There is a main, spacious bar section. In addition to that, there is a pair of large beer gardens which provide an excellent location for you to relax after a hard day at work.
Food is served in the resident Kitchen. Open throughout the week, it serves the most affordable yet substantial meals in town. You can visit the venue with your family, friends, partner or by yourself and have a blast.
The menu here contains a variety of main dishes, pizzas, sides, desserts, kids meals and bar snacks. You can order the day's roast, Aioli, Sicilian pizza, Banoffee pie or nachos. Kids can enjoy the mini pizza, chicken nuggets or fish bites.
Menu Sample The Fitz Sports Bar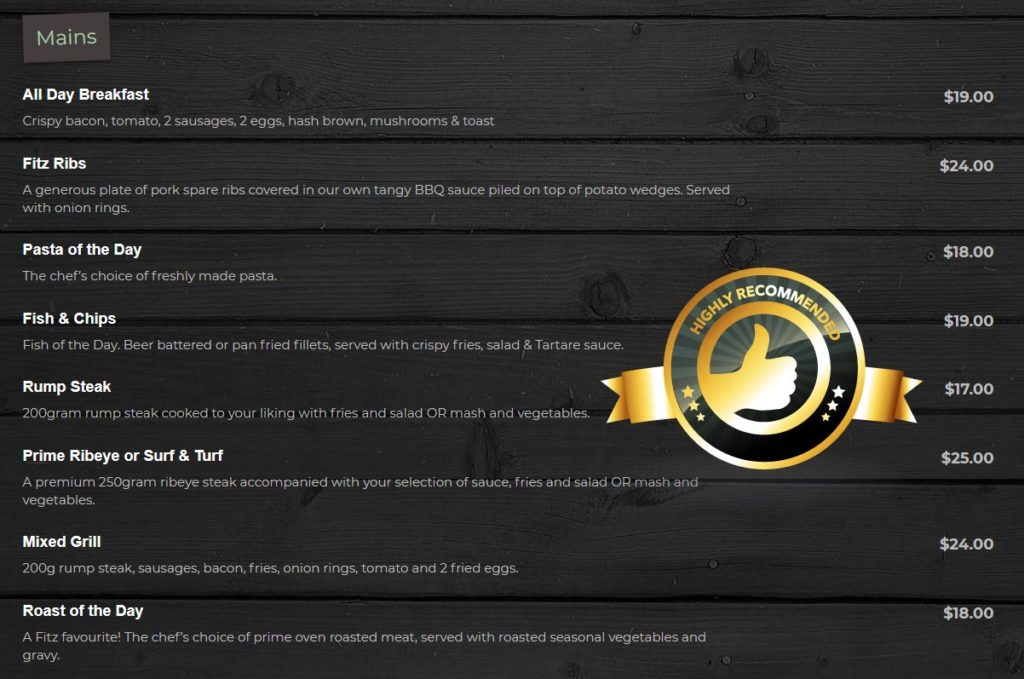 A great local pokies lounge in Christchurch
Pokies players in Christchurch love the Fitz Bar, they have 18 hot poker machines that Kiwi's love to play. The excitement thanks to a self-service TAB adds to the gaming fun also.
| UPTOWN ACES Casino | Bonus | Compatible Devices | |
| --- | --- | --- | --- |
| | $8888 | | Play Now |
About the venue
For many years, the Fitz Sports Bar has been situated at the same corner. Thanks to its strategic location, it is a popular meeting place for visitors and locals too. The venue is proudly supportive of the community. Therefore, they will provide help and facilitate resources to anyone who is willing to help in reconstructing Christchurch.
There is ample entertainment in form of a whopping 11 wide screen TVs. Every once in a while, the sports bar hosts a live band which thrills guests with the latest tracks. There is ample parking available for guests.
Rewards program
For a full experience at the venue at the lowest prices, guests can join the Fitz Sports Bar royalty card program. You can join at any time by registering at the counter. Card-holders get to enjoy 10% off their drinks and meals at the joint. As such, it is a valuable resource for the regular visitor.
Special activities
To keep patrons thoroughly entertained, the bar holds special activities. Examples of these include the Fundraising Quizzes, Poker, Pool Competition and everybody's favorite, the Happy Hour. These activities occur on special days at specific times. You can have a look in their website to see the updated schedule of events.
Conclusion
Catering to the avid sports fan as well as the enthusiast of cold drinks, the Fitz Sports Bar is a versatile venue with everything under one roof. The atmosphere is friendly, the pokies are loose, drinks are cool and meals are affordable. For any queries and concerns, feel free to send a message to the venue's management through a dedicated form in their website.
Opening hours
Monday: 10am to Late
Tuesday: 10am to Late
Wednesday: 10am to Late
Thursday: 10am to Late
Friday: 10am to Late
Saturday: 10am to Late
Sunday: 11am to Late
Contacts
Phone 03 963 1766
Website www.thefitz.co.nz/
Map and address
More New Zealand Local Pokies Clubs, Restaurants, Pubs, Casinos
| SLOTS CAPITAL Casino | Bonus | Compatible Devices | |
| --- | --- | --- | --- |
| | $100 | | Play Now |