In the fashion of authentic New Zealand drinking spots, the Tiki Tavern is a community-centered establishment. The management maintains a friendly ambiance based on the 4 C's. These are Communication, Curiosity, Contribution and Community. By committing to these four tenets, the venue provides an environment which is family-friendly, serves great-tasting food, plays awesome music, provides cracker pokies and serves guests the best local and international drinks.
Menu, Drinks & Pokies @ The Tiki Tavern
Here, guests can enjoy good music, great food, live music and enough space for big concerts. Furthermore, the venue's management cares about the surrounding community. Therefore, they provide personalized service.
Its not a tavern until there is something to wash down with your favorite drink. At the Tiki Tavern, you can enjoy a collection of pub grub foods. The menu appeals to guests of all ages and backgrounds. What's more, families can have combined dining and enjoy the best cuisine this side of New Zealand.
Some of the iconic dishes prepared by the professional chefs here include moroccan chicken salad, the must try buffalo wings which are extra crunchy, steaks and the best pizzas and burgers in Whangarei. The team of chefs and staff are experienced and well trained in the art of fine food. Therefore, breakfast, lunch and dinner are served here with pride and at super prices.
In traditional Kiwi fashion, the bar section of the tavern is packed to the brim with all the greatest drinks. The bartenders are more than ready and willing to serve local and international drinks. You can find many choices of tap and bottled beers, spirits, the very best local red and white wines plus all the best ciders.
You can also order some bar snacks to keep you satisfied as you sip. Some examples of these are pork rinds, wedges and fries.
There is an expansive car park, a big outdoor area, private event area that has a retro theme and enough seating and standing room for 620 people. As such, it is a comprehensive establishment with something for everyone.
Menu Sample – TIP ! Try the delish Pizza's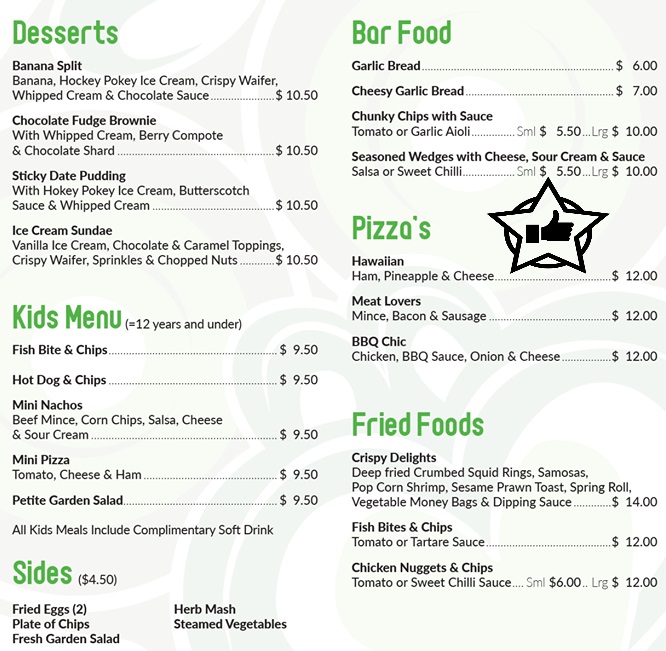 Best local pokies fun in Whangarei

Heaps of the pokies Kiwis love to play are all awaiting the pleasure of your company in the gaming area. The pub has 18 IGT and Aristocrat slots available that are sure to be nice to you.
Interaction with community
Seeing as the venue puts community first, the Tiki Tavern has interacted with and assisted members of the community extensively. Firstly, the tavern is located in the central part of Tikipunga. Furthermore, it is right beside a professional golf course known as Denby.
Amenities such as the butchery, pharmacy, a well stocked supermarket, petrol station, hair salon and more are all a just a short walk away. The establishment has raised funds to help community projects such as Riders against Teen Suicide, The Green Ribbon and The Children's Ward among several great causes.
Conclusion
There are many reasons why you should visit the Tiki Tavern. Firstly, there are tasty dishes to be had here. Furthermore, there is a wide collection of drinks on offer and a superior pokies gaming zone as well as community-centered hospitality.
Contacts
Phone 09-437 2955
Website www.tikitavern.co.nz/
Map and address
Tiki Tavern
3 Wanaka St, Tikipunga, Whangarei 0112, New Zealand

More New Zealand Local Pokies Clubs, Restaurants, Pubs, Casinos